Biplanes used turnbuckles to adjust the tension of the cables. In 1/48 and 1/32 scales, turnbuckles are so small that it is not possible for current modelling resins to withstand the slight tension of the cable, whereas stronger materials have been prohibitively expensive. Thus, even the best models have actually been quite crude in that aspect, using very small cylinders in place of turnbuckles—until now.
After one year of research in the latest technological advances, GasPatch models has produced the world's first metal turnbuckle model parts at a reasonable cost. We make several different types of turnbuckles, at 1/48 and 1/32 scales.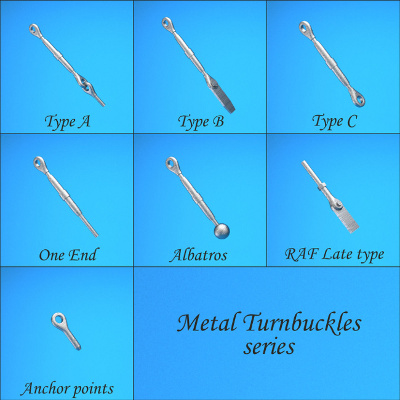 The actual type of attachment used was different for each plane, and there were planes that used more than one type; so it's up to you to select the appropriate type for your model.